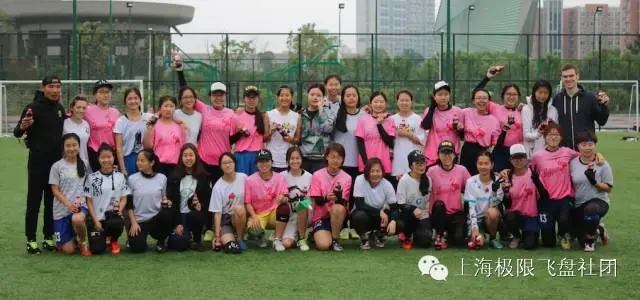 请往下浏览中文版
Yesterday the Shanghai women's team had their first ever game with the Ningbo women's team Flaming Girls. To start the match, both teams had lots of turnovers on simple mistakes and miscommunications. SH scored the first 5 points and then LiuWei showed up to join the Flaming Girls. The intensity picked up immediately. The strong start was ultimately too much for the NB team to overcome as we took half and won the game 13-9.
In the afternoon Liangzhuang and Evan organized specific drills based on the morning's performance. Â Following these drills we had a rematch with the womens team from Ningbo.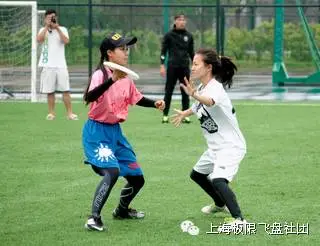 This time around, offense and defense was much more structured. Both teams wanted to win the game badly and there were quite a few calls on the field. The SH girls continued to build momentum with more aggressive play and opend the game up with lots of hucks for scores. During a Sunday of learning, these girls were using this final game to continue to adapt to their new roles on the womens team. Each girl was focused on improving on their mistakes and trying to get better every point.
Overall it was a very organized and successful game. The SH girls are super excited to see more improvements and fired up for the August tournament!
本周 我们上海女子队有了我们首次比赛 和宁波女子队 flaming girls 。开始 两个队都有turnovers在那些简单的失误和没默契交流 我们迷糊的先得了5分 ä¹‹åŽåˆ˜ä¼ŸåŠ å…¥äº†å¥¹ä»¬çš"队  竞争感一下子就上来了 个人的不足不战术上的缺陷立即体现出来 我们拿下半场 最后13-9赢了 下午 梁壮和evanæ ¹æ®æˆ'们çš"çš"æ¯"赛情况作了训练 我们又比了一场 è¿›æ"»é˜²å®ˆæ›´åŠ 有ç»"æž" 场上也更多calls 我们上海队更积极的态度 åšäº†å¾ˆå¤šé•¿ä¼ é…åˆå¾—åˆ† 我们每个人都在努力适应在女队中担任的新的角色 正视自己的不足和以后要努力的方向 总之 这是一个组织的很好的成功的友谊赛 我们超级激动和期待八月的女子赛 上海将不仅拥有最好的混合队 还将拥有最好的女子队!微笑微笑
Women's Ultimate Update: Shanghai vs. Ningbo